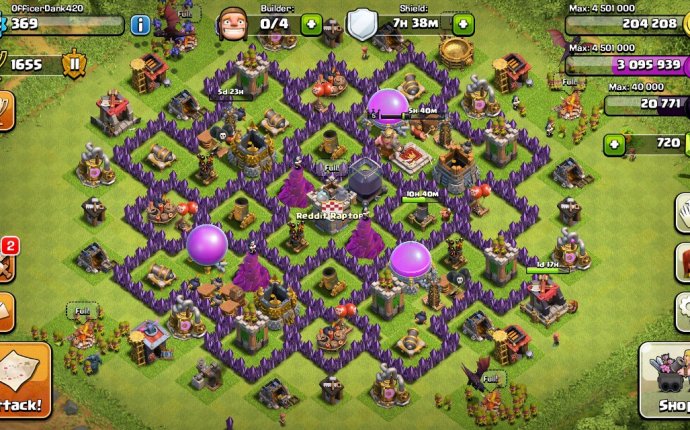 What games are like Clash of Clans?
Clash of Clans breathed new life into the dying real-time strategy (RTS) genre with its unique gameplay concept, amazing 3D visuals, and a simple combat system that instantly clicked with the casual gaming crowd. This multiplayer city-building/strategy title lets you build a village, train troops, and send them to battle to earn rewards and collect loot. Its strength lies in its simple format, which appeals to casual mobile gamers.
If you love playing SuperCell's epic strategy game, then you should try one of these titles. The games listed below aren't exact clones, but have borrowed the "tap to deploy" mechanics and other concepts similar to Clash of Clans. Here are ten addicting city-building/RTS titles for mobile and Facebook gamers.
I wish it was named Vikings vs. Zombies, because that's what it is – a real-time strategy game featuring brawny Vikings and not-so-brainy zombies. You will control Vikings, put up defenses and towers to fend off zombie attacks and recruit archers, warriors, bear riders, wall breakers, bone crushers, and other powerful units to invade and destroy the undead lair.
Vikings Gone Wild has excellent cartoony graphics that will remind you of Asterix and Obelix comic books. The animation is top-notch; just zoom in to get a clear view of battling Vikings and fleeing zombies. You can play it on Facebook from your web browser, but make sure your PC has Unity Web Player installed.
In a fantasy setting, Castle Clash lets you build strong defenses, recruit common and special units, level-up buildings, upgrade units, and attack enemy bases. The game's social feature lets you invade player bases and brace for a friendly invasion from friends and random opponents.
Besides recruiting common units like archers, mages, and warriors, players can also buy special heroes to summon at enemy bases where they can do maximum damage to buildings. There's also an arena mode that allows one-on-one hero battles between random players online. The game's fun and addicting and has plenty of challenging levels, many that might force you to re-invade several times to emerge victorious in battle.
Ninja Kingdom's Far East setting will appeal to fans of shogun warriors and veiled assassins. And within its charming Asian backdrop is a nice real-time strategy game involving base defense, city-building, and strategy combat. You will need to set up defenses, recruit deadly troops, and fend off the ruthless shogun army to protect your village and the princess.
This Facebook game has a nice lineup of troops ranging from Kunoichi (ranged attackers) to stealthy samurais adept in sneak and kill tactics. You can also summon powerful monsters like the Hulk-like Oni, who can single-handedly destroy half of the enemy village. The game has undergone lots of changes and will be available soon in a new avatar.
Source: levelskip.com